April is a pretty crazy month for everyone with April Fool's Day, Easter and a ton of bank holidays to work around. Somehow we still managed to pump out a fully-fledged puzzle game with a unique twist, 12 fonts and a patch for NAL is Alive. Phew. Read on to find out more!
---
Super Plush Festival
On April 7th we released our brand new puzzle game Super Plush Festival. Swipe up, down, left and right to slide the plushes into groups of three or more. Collect the plushes, smash the ice blocks and use the sticky webs to your advantage! With 200 levels to complete, 50 stickers to collect and an endless arcade mode, you'll never get bored!* Grab the game now for free on Google Play or iTunes. *Ok, you have the right to be bored, but it is a good game.
---
New Fonts
We've now hit over 4 million font downloads in total with 3.6 million on DaFont and 450,000 on FontSpace. We've also hit a massive total of 182 individual fonts for you to choose from! We'll be looking to update our full list of fonts on our website soon, but for now you can find them all on FontSpace. Here's a list of the fonts we released in April:
We've also updated our font licensing page to make it even easier to grab the license you need to use our fonts in your projects, be sure to check it out.
---
Truly Madly Dpad Features
Our gaming blog, Truly Madly Dpad, has now been running for a few months. We're using it mostly as a pet project for when we're bored of real work, which means we haven't had much time to post up regular content. However, we did publish a few good things this month so I thought I'd list them here:
---
NAL is Alive patches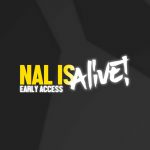 Just a small patch this month released on April 5th. This patch fixes an issue where some users were seeing two copies of the same game in the launcher window. We are continuing work on all of the games included in NAL is Alive on an ongoing basis. We don't really have a date for full release from Early Access, given the nature of the project and its scale, it's fair to say it might never be perfectly fit for release, but we hope to have it release ready at some point this year.
---
And that's all we did in April. Stay tuned for more fonts, games and articles this magical May!
– Dan