August seems to have flown by ridiculously quickly and yet, we've got SOOOO much done. Don't let me bore you with small talk, see for yourself:
---
On Top Fonting Form
August has been an absolutely MASSIVE month for Chequered Ink's font collection. We've released no less than 33 fonts this month, bringing our total up to 249. You can find our full catalogue of fonts on our font listing page or on our Fontspace profile.
Some Kinda Madness
Gridking
Blackletter Buffoonery
Satire
Almond Rocks
Daisy Roots
Offspring Remorse
Somerset Barnyard
Der Neue Spargel
Beast of Rage
Drowsy
Comic Khazi
Plack The Hanet
Hipster Hand Grenade
Dog Rough
Frankfurt Messe (3 Styles)
Aztechno
Clintwood
Lovesauce
Typingrad
Gravedigger
Rampant
Happy Accidents
Scaremonger
Stuttgart Messe
Helicopta
Hangar Nine
Freestyling Centipede
Clutching Toth
Klein Bottle
Blaize
Chisholm Heliport
Robo Arriba
Why the sudden burst of activity in this area? Well, we've taken inspiration from the fact that we've hit a little milestone…
---
5 million font Downloads & 200 Font Mega Pack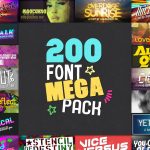 Yes, this month we hit 5 million downloads on DaFont! Combined with download numbers from Fontspace, our fonts have now been downloaded 5,773,300 times. To celebrate, we held a flash sale of our new 200 Font Mega Pack, a collection of the first 200 fonts we released for commercial use. Even when it's not on sale, our new mega pack is fantastic value at under $10 a font for all commercial use.
---
InkRPG – Low Poly City Pack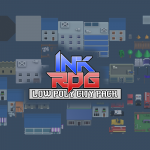 For the first time in over a year we've released a new asset in our InkRPG series. The Low Poly City Pack features 150 sprites for use in your RPG games (or otherwise) and was crafted with the help of Kenney's AssetForge – which means there are plenty of great assets out there in a similar style to help you expand your game.
---
Spellacle Released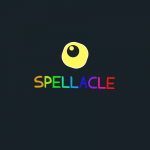 Just 6 days ago we released a new minigame called Spellacle. This free little game is Windows exclusive and only takes a few minutes to play, but it helped us to grease the wheels of our imaginations and stick to our target of releasing 1 game per month in 2017. The game features 25 jumbled-word puzzles, can you sort out the mess?
---
Tick Tick Pass Progress
Another huge milestone we've reached this month is the addition of the 1000th quest to Tick Tick Pass. We've been working on this project for a long time, and 1000 quizzes (or quests) has always been our target for the first release of Tick Tick Pass. We now hope to focus on the engine of the game itself, making sure it's fun to play whether you're going solo or partying with friends.
Tick Tick Pass just hit ONE THOUSAND quests! Naturally, the 1,000th quests is about thousands! #gamedev #indiedev #gamemaker @ChequeredInk pic.twitter.com/f8SXaEKfgJ

— NAL (@NALGames) August 30, 2017
---
GameDevDan vs Life Progress
Finally, work continues on GameDevDan Vs Life (Dan's answer to NAL is Alive) where we are making relatively decent progress. Since the tweet below, 3 more games have been made ready to go meaning that there are just 12 left to bring up to scratch before we can consider a release date.
Still working hard to bring you @GameDevDan vs Life. 35 out of the total 50 games in the compilation are ready to go! #GameDev #IndieDev pic.twitter.com/DMRgbFeyee

— Chequered Ink (@ChequeredInk) August 10, 2017
---
And that's all for August! Be sure to keep an eye on our work throughout September, we may have some cool things to show you!