Time flies when you're having fun, and that's what we've been doing this month: having fun!
---
Gossamer Girls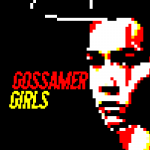 This month NAL made a game for #LowRezJam called Gossamer Girls. It came 10th overall and 2nd in the best gameplay category. Gossamer Girls sees you, the newest member of the eponymous all-female taskforce, exploring ancient dungeons, untouched by humanity for generations and overrun by clusters of spiders that produce valuable gossamer. You can play it on itch.io for free here: https://ci.itch.io/gossamer-girls
---
New Fonts
In August we've been busy working on jam games and other background projects, so we didn't make quite as many fonts as usual. But still, here are twenty brand new fonts to feast your eyes upon!
---
GameDevDanMon
Back at the end of July Dan started tweeting a whole bunch of monsters that he (and we) have created for pet-battling games but never used. You can find the first 41 tweets (out of 60) by searching Twitter for the hashtag #GameDevDanMon.
#GameDevDanMon #40

NAMES: Hoder, Miding, Humbee, Stindong. Maggrub, Cocomb, Beequeen, Vespee.
TYPES: ? (all) ⛰️/☠️/?️/? (some)
Split-evolution bees are an idea that I've had floating around for a LONG time. Depending on how you raise them they turn into different types. pic.twitter.com/TgTQxEofpQ

— Dan Johnston ? (@GameDevDan) September 2, 2018
---
That's all for this month, tune in next time to find out what we get up to in September!
Chequered Ink Team