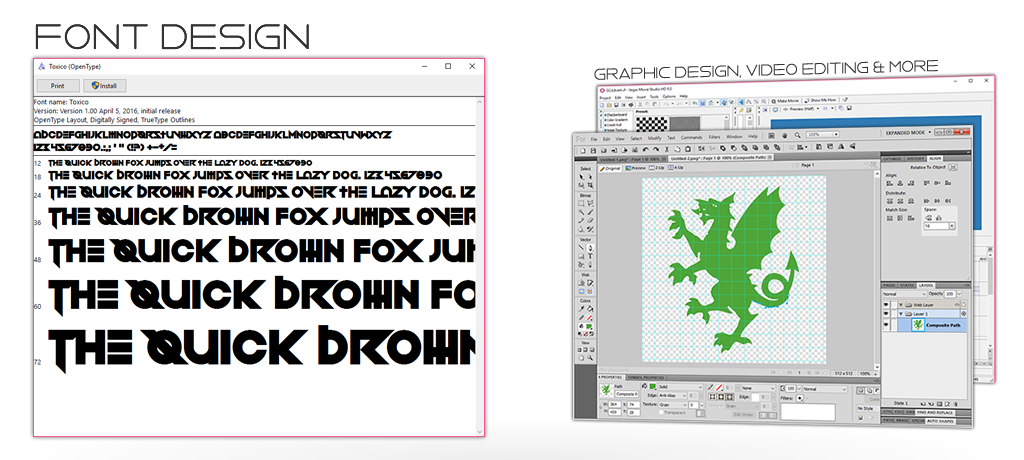 Hire us for custom fonts, videos, websites, games, apps and more! At Chequered Ink our designers have years of valuable experience in the design industry, creating over 200 games and 200 fonts between us, as well as designing websites, graphics and videos for clients and for use in our own personal projects. The Chequered Ink website itself is a testament to our ability to quickly produce digital content of high-quality at a professional standard.
Services on offer*
Service
Tiers
Price
Custom Font Design
Basic (A-Z,a-z,0-9,punc)
$200 / £139
Advanced (More punc, Accents)
$300 / £209
Extra (Any additional requests)
Get a quote
Logo Design
Basic Wordmark
$100 / £79
Advanced
Get a quote
Graphic Design
Leaflets, adverts etc.
Get a quote
Web Design & Development
Front-End HTML5 & CSS Only
Get a quote
Tailored Games & Apps
Get a quote
*All prices are a guideline only, please contact us for a tailored quote for your project.
Past work
Our bespoke client work at Chequered Ink can be viewed here, but the rest of our website also showcases our various skills for hire. Our team consists of Andrew (NALGames), and Dan, whose previous work can be viewed on their respective portfolios.
Get a quote