We've kicked off 2016 in exactly the way we'd hoped – by releasing a bucket load of content for you to enjoy! Check out this list of releases and announcements we made during January.
Fonts
We've already released 4 fonts for you to use in your logos & games – that's one for each week of the year so far.
Video Games
We'll be trying to publish more games this year than we did last year – and you could say we released quite a lot! This month we've managed two…
NAL Is Dead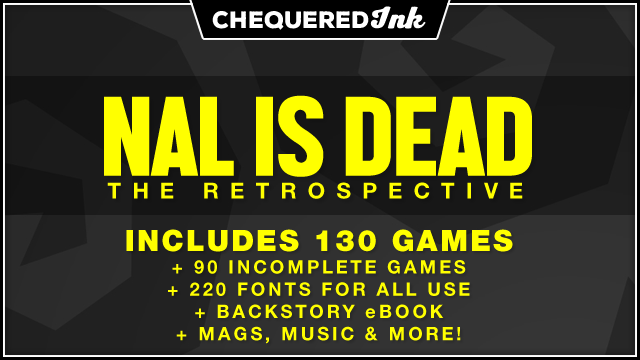 NAL Is Dead is the ultimate pack of games from NALGames, who is now (obviously) one half of Chequered Ink.
Won't You Be My Laser?
A week ago we released the twitchy top-down puzzler Won't You Be My Laser for PC, and it's also up on Steam Greenlight. If you liked Innoquous in substance and style, you'll love WYBML! Please grab it on itch.io and vote YES on Steam Greenlight 🙂
Card Games
Just received the first printed deck of one of a few card games we're experimenting with 🙂 Here's a sample card! pic.twitter.com/nU84WEbkoK

— Chequered Ink (@ChequeredInk) January 21, 2016
While we haven't released anything in this vein yet, we revealed that we are keen to release some real-life physical card games. We've already released a few card games on mobile platforms, how hard can it be?
Design Assets

Finally, we released InkRPG, our collection of assets for GameMaker: Studio. Kickstart your RPG with sound effects, music and graphics from our various Marketplace assets!
Stay tuned and watch this space, there may only be 29 days in February, but we still hope to bring you a whole lotta goodies!