Woah, happy 2018 folks! That first month hit the deck like a sack of spuds didn't it? 2018 is 1/12th complete already and we just don't know how the time got away from us. This year Dan hasn't challenged himself to make at least one game per month, so you'll notice we haven't released anything playable. However we've got tons of new fonts to show you as well as news from upcoming projects – so what are you waiting for? dive in:
---
New Fonts
This month we've released a whopping 28 new fonts for you to use in your projects – a fantastic start to 2018. In previous round-ups we've just included a boring list of text which didn't showcase our brand new fonts properly. This month we've started doing things a little differently. Here are January's fonts listed in style.
---
Fonts in Action: Phil Taylor
We usually don't go out of our way to include this kind of thing in our monthly round-ups, but this example was too cool to let it pass. We're both huge darts fans so imagine our surprise and joy when we saw Phil "The Power" Taylor wearing one of our fonts at his last ever PDC World Championship Final.
Thank you pic.twitter.com/79CYdjzc6H

— Phil Taylor (@PhilTaylor) January 1, 2018
The logo on the back of his shirt is edited from the font "Toxico", which can also be seen completely unaltered on the sleeves. Neat eh? You can find more examples of our fonts in action here.
---
New Font License Structure
To kick off this year we gave our font licenses a bit of a shuffle. There are now 4 options: Non-profit, Business Lite, Business Standard and Business Extended. As ever you can continue to use our fonts for free for non-commercial use (although you can now make a good will contribution if you like!). The main difference here is the middle license: Business Standard. This is a new license sitting at a $50 price point for businesses who were just slightly too big for our old basic license but couldn't meet the larger price for our extended license. We welcome any feedback you have on our new system and we hope that no disruption has been caused by this change.
---
Maddening Euphoria makes Indie Toaster's favorite indie games list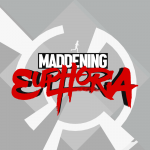 We couldn't let this one go by without a mention. Maddening Euphoria has made it onto The Indie Toaster's Favorite Indie Games of 2017. Writer Alessandro had this to say about the game: "When the idea of each team member announcing the game they liked the most came to us, I started wondering what my pick was going to be. I eventually managed to single out two experiences that I thoroughly enjoyed. Lion Shield's Kingdoms and Castles and Chequered Ink's Maddening Euphoria both had me coming back for more on several occasions. In the end, though, it was the latter that brought the cake home. Its relative simplicity, the steep learning curve, and the challenging gameplay kept me hooked to the screen."
Be sure to go and check out the other fantastic games in the article!
---
GameDevDan vs Life Progress
Dan has been steaming ahead with his pack of past games which we are hoping to bring to Steam and itch.io in Q1 of this year. 49/50 games are in the pack and ready to go, the last is a brand-new, exclusive racing game featuring characters, locations and items from the other games in the pack. If you follow the GameDevDanvsLife hashtag on Twitter, you'll find a whole bunch of pictures and videos of the new game. We've picked out just a couple of tweets here to pique your interest:
More screenies from the 2nd cup of my kart game, saving a few pics from cup 3 for #ScreenshotSaturday tomorrow. #GameDevDanvsLife #GameDev #IndieDev pic.twitter.com/uj398hTzSn

— Dan (@GameDevDan) January 26, 2018
Quite obviously a lot of things about this game are still very much a WIP, but here's a lap of the Grumble Farm circuit #GameDevDanvsLife #GameDev #IndieDev pic.twitter.com/2gL6xkTkwp

— Dan (@GameDevDan) January 19, 2018
---
Tick Tick Pass Progress
And, as ever, work continues on Tick Tick Pass, our MASSIVE, ambitious quiz game. As we move into 2018 we'll be hoping to work more on the engine of the game getting it into a fun and playable state.
Tick Tick Pass has its first new quest of 2018 – "Named Hieroglyphs". Over 1,050 of them in the game now. And the game's now been in development for 2 years 8 months, my longest project by far! ? #gamedev #indiedev #game #indiegames #indiegamedev @ChequeredInk pic.twitter.com/ZLTetxjHw0

— NAL (@NALGames) January 4, 2018
---
And that's all for this month! Stay tuned for February's round-up or, if you can't wait, be sure to follow us on Twitter and Like us on Facebook.
All the best,
Chequered Ink Team.