July! If you live anywhere in the northern hemisphere that isn't the UK this is the peak of summer. OK, I kid, we had some scorching weather for a few days at the start of the month, but that hasn't stopped us from working on some great things. See for yourself…
Fonts
This month NAL ramped up font production again and we managed to publish 15 of them on FontSpace! This brings our total number of fonts up to a whopping 125. There's bound to be something you like there, so be sure to check them out.
Card Shark
Sheeping Dogs
Go Faster
Magenta Flow
Stencil of Destiny
Prick Habit
Pelode
Blackboard Rovers
Caperput
You Can't Kill Old School
Lovecraftimus
Lorra Lorra Dates!
Rawhide Raw 2016
Smack Laideth Down 2016
Vice Versus
We also released our sixth pack of fonts on Creative Market, License 20 fonts at once for just $10!
Tappy Trove
Mid-month we released the finger-tapping mini-game Tappy Trove! Throw the orbs into the right treasure chests by tapping as fast as you can on the screen… hesitate or make three mistakes and it's game over.
The game is available free on iPhone & iPad, Android, Windows Phone, Windows PCs and even in your browser.
YoYo Games Tech Blog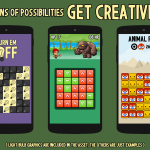 Earlier this month Dan (me!) penned an article on creating your own lights-off game like our very own Chippity Flip. This was picked up by YoYo Games, creators of GameMaker: Studio, who offered to cross-post the article on their Tech Blog. If you want to learn more about data structures, especially grids, it's worth a read.
Won't You Be My Laser Greenlit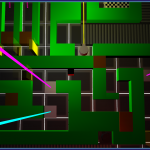 Quite honestly coming as a (pleasant) surprise to us, WYBML was greenlit this month. Our 80s-themed puzzler was released on itch.io back in January and has been slowly gaining popularity on Greenlight ever since. We're pleased to say we'll be able to bring you this on Steam sometime in the near future.
What's Next?
NAL is Alive is another of our Greenlight success stories. NAL himself is hard at work bringing the gaming mega-pack up to scratch for release on Steam.
Tiny Wayfarers is also still on the go, we're slowly making progress on that. Earlier this month we released a series of concept sketches and screen shots which you can see by searching #TinyWayfarers on Twitter.
Over the next month or two we will also be performing Android Updates for all of our currently available games. There are a few deprecated features Google would rather we didn't use, so we'll be fixing that, and we may throw in the odd bug fix and bonus feature to make the update worthwhile.
Finally, the Post-apocalyptic GMC Jam took place this weekend just gone (29th July – 1st August). There will be a bigger update on this in our August round-up, but our entries are both available now on itch.io. (4 Versus The World & Lonely Drone).
That's all for this month, thanks for reading and we'll be sure to bring you more great content this month!