Seven months down. Next thing you know it'll be Christmas! We've been busy, busy, busy as usual – check out what we got up to in this summary of our summer so far:
---
Font Collections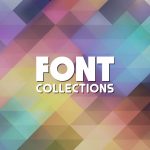 At the start of the month we announced five brand new font collections. You can now buy our fonts for commercial use in bulk and save up to 80% versus the cost of licensing each font individually. Currently our font collections are grouped by date of release, but we hope to release more in future based on look and feel. Of course, if you only need to license one font you can still grab our usual font licenses here.
---
New Fonts
In July we've released 15 brand new fonts for use in your work, each with its own unique feel. A list of our new fonts appears below, or you can browse our whole catalogue on FontSpace, DaFont or our full font listing.
Nebulous Content
Stress Genesis
Vermin Vibes V
Miracle Day
Köln Messe-Deutz
Disco Everyday Value
Sui Coward
Old School Adventures
Mersey Cowboy
Pirates of Cydonia
Long Haired Freaky People
Revolution Will Be Hypnotised
Merriment Helicopter
Toe the Lineless
Rollcage
---
Flore ibrida released
Right at the end of this month we released a cute little garden simulator, Flore ibrida. Manage your own little miniature garden complete with randomized plants and marvelous mini-beasts. In this relaxing sandbox game you can create your own flowers by randomizing them, mutating them, breeding them with flowers you've already planted or even paste a flower that someone else has shared on Facebook or Twitter. Different flowers will attract different bugs to your garden and there are 16 to collect in total! Grab the game for free on Windows.
---
Tick Tick Pass Progress
We've now reached over 900 quizzes in Tick Tick Pass and added various interesting modes and mechanics to the game. It still needs quite a bit of work but it's really looking like a decent, fully-fledged party game.
Tick Tick Pass has passed the 900 quest mark! #gamedev #indiedev #madewithgamemaker #gamemaker pic.twitter.com/kbG3Ue0VQu

— Chequered Ink (@ChequeredInk) July 17, 2017
Up to 920 quests now in Tick Tick Pass, including this mixed bunch! #screenshotsaturday #gamedev #indiedev #madewithgamemaker pic.twitter.com/3nsTOLRI0F

— NAL (@NALGames) July 22, 2017
---
GameDevDan vs Life Progress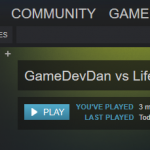 And finally I've been continuing work on GameDevDan vs Life, a pack of 50 of my old games from the pre-Chequered Ink era. You can see both of my devlogs from july here and here. The headline news is: the game is now set up on Steam and 28 / 50 of the games are test-ready or finished.
---
And that's all for July, stay tuned for an eventful August!
All the best,
Dan and NAL