It's that time again – in fact it's a bit later than usual – but here's a round-up of everything Chequered Ink has achieved in the last month!
---
New Fonts
Last month we stepped up our font game again and managed to release 12 fonts on FontSpace. We now have over 3 million downloads on DaFont too, which is an absolutely incredible milestone!
LED Specimen
Techno Agony
Effective Power
The Wild Breath of Zelda
Gardenfreude
Wander Z
Mighty Squidge
Track and Shield
Aquamarina
Zealousy
Chrobot
Fake News
---
Be The Change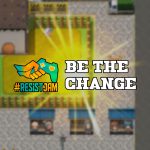 As part of the Resist Jam at the beginning of March we released a short game called "Be The Change". The game follows the story of a disillusioned activist who must perform good deeds at a local level to rebuild a sense of community spirit. The game was made in RPG Maker and is available for free on itch.io. We've also agreed to allow it to be a part of the charity bundle which the Resist Jam team are creating.
---
NAL is Alive patch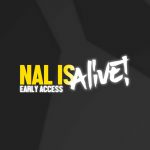 On March 23rd we added a massive patch to NAL is Alive which unlocks the "Pandora's Box" option in the menu. This option allows players to access unreleased games, tech demos and projects that have never seen the light of day. This adds to the 130 complete games that already exist in NAL is alive, which is available in Early Access for just £10.99.
---
At the time of writing we've also just released our brand new game Super Plush Festival, but I'll include more about that in April's round-up. See you soon!