May is over already and it's officially only 19 days until our evenings in the northern hemisphere start to get shorter again. But there's no need to wallow in misery – there's plenty to be happy about in our wonderful round-up!
---
WillO Revisited
On the 23rd we released this upgrade of one of Dan's classic games "WillO". This version of WillO was originally developed for Windows 8 tablets and was a runner-up in the YoYo Games Win Big Competition. The new version updates the game for Windows 10 and adds gamepad controls, so you can choose to play in the way that feels most comfortable! The game is available on itch.io for $1.99.
---
New Fonts
This month we've contracted font fever! Must be something about the nice weather. In the 31 days of May we released 13 brand new fonts for use in your projects, which are all listed below. We also overhauled our full list of fonts so you can now preview, download and purchase licenses for our fonts with ease.
Last month we hit a milestone of 4 million total font downloads across both DaFont and FontSpace. This month we reached 4 million downloads on DaFont alone, with FontSpace almost up to 500,000.
---
NAL is Alive & Super Fidget Spinner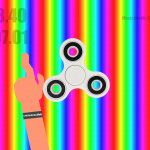 On the 24th, NAL got a bit bored and decided to release a new game called Super Fidget Spinner. The game features a wobbly hand that you control with the mouse to spin the fidgety-thing. The game was added to the NAL is Alive launcher the same day, so be on the lookout for that update!
---
Plugging Districts for #GE2017
The UK has been caught in the chaos of a snap election for the last few weeks, so we've decided to keep plugging our political puzzle game Districts, which centers around the practice of Gerrymandering.
Elections, elections, everywhere! Learn how voting boundaries can affect results with #Districts https://t.co/Ka4Qg6VuPS #GE2017 pic.twitter.com/tgTcXx3PhO

— Chequered Ink (@ChequeredInk) May 8, 2017
---
Tick Tick Pass Progress
We've also been continuing work on our Quiz game Tick Tick Pass. So far the game contains 800 lists (we're shooting for at least 1000 for the first version) and NAL has been busy adding awesome new game modes and features that make it feel more like a game show.
So close to 800 lists in Tick Tick Pass so far… including this beautiful one! #gamedev #indiedev #madeingamemaker #gamemaker @ChequeredInk pic.twitter.com/tKHEaFPX1Z

— NAL (@NALGames) May 16, 2017
Tick Tick Pass – May 2017 – Gameshow Mode Test Footage https://t.co/cUiXkkjT1Z

— Chequered Ink (@ChequeredInk) May 12, 2017
---
Chequered Ink's 2nd Birthday in 16 Days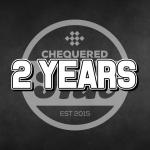 Finally, before I wrap this up, I want to let you know that Chequered Ink will be celebrating its 2nd birthday in just over 2 weeks time! On the 18th of June, we'll be releasing a brand new video showcasing our games and fonts, and we might also have a few sneaky discounts waiting for you as a sign of our appreciation for all your support. Keep your eyes peeled!
---
That's all for this month, be sure to follow us on Twitter and like us on Facebook for regular news!
Cheers,
Dan